DateUkrainians.com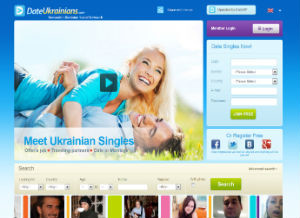 With its international and Ukrainian membership, DateUkrainians.com is an online social networking website free to use platform. The site is specifically designed for adults, who wish to connect on a wide array of topics. The site will enable you to look for an employee, new job, penpals or even online friends. Additionally, DateUkrainians.com makes it possible for those seeking Ukrainian dates, marriage partners or friends to do so at the site.
Registration
The sign up process is easy, all you need is a minute and you ultimately become a member. Those registering at the site only need to upload a picture of themselves, before beginning to search for their person of interest. The search is pegged on a certain criteria that members have specified during the sign up process. You can search for members through different criteria such as religion, lifestyle, interests, and ethnicity, among others.
Ease of use
Anyone interested to meet Ukrainian men and women can do so at DateUkrainians.com. The platform is safe for chatting to other interested members. Any person looking for marriage, love, or friendship will find the website convenient to use. The user interface is simple and easy to navigate through at any given time. The site also has a zero tolerance policy on harassment and strives to ensure it becomes both an enjoyable and safe online platform.
Selection of 'ladies'
In case you are searching for a companion, spouse, or a friend, you will find that the selection process is very simple in terms of navigating through the profiles of similar people. Once you have found the ideal fit for yourself, you have the option of sending the person a message free of any charge. You might also stumble upon a unique business venture unknown to you previously.
Value for Money
DateUkrainians.com does not have any costs attached to its services and is merely a socialising platform with international members interacting with Ukrainian nationals. It is a free social network that continues to grow with each passing day due to its savvy technological interface.
Highlights
The site is versatile and can be used for various purposes, key among them being dating and socialising. The following are the key elements associated with DateUkrainians.com.
The sign up process and use of the site is absolutely free of charge. This is a big score to the site unlike tonnes of other sites.

The site can be used for dating, socialising and for business prospects as well.

Travellers and tourists to Ukraine can use the site to look for travel companions and trip advisors.

The search criteria is extensive
Rating
The site scores highly due to its multi-purpose platform which is easy to use. The rating for this site according to my own analysis would be 4 out of 5. However, it has to be noted that any guys looking for marriage minded ladies, will probably find more success at specialist Ukraine dating websites, such as UkraineDatingAgency.com
Conclusion
DateUkrainians.com is an online social and dating network that traverses many aspects of daily life. These aspects include; looking for friendship, dating, employment, business prospects, travelling, among many others. If you enjoy Ukrainian interaction, then this is the best platform available for you.