UkraineBridesAgency.com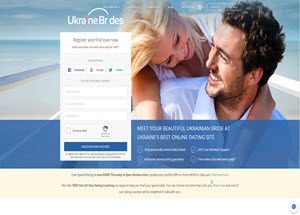 UkraineBridesAgency is an online mail order bride platform that facilitates correspondence between charming Ukrainian girls and Western men. The result of this facilitation may lead to long term friendships, relationships, marriage or partnership. The agency offers several services meant to realise their objectives, after you undergo a simple sign up process on their site.
Registration
The registration process is free from any costs and does not require filling lots of personal details unless you wish to. Once you have created your profile, ladies are able to view it and can contact you immediately. The site has a private policy that safeguards your profile details, and can only be accessed by the women registered at the site.
Ease of use
UkraineBridesAgency offers tons of services that range from introductions, online chat, translated correspondence, through to travel arrangements and sending gifts. The site has a well laid out control panel that redirects a person to any service that they require with ease. You can check any profile that interests you, send messages, send a broad variety of gifts including jewellery and finally initiate chat conversations.
Selection of ladies
The dating agency provides profiles that are 100% real, even though the adverts on the front page might leave some doubts. I was a little sceptical at the beginning, since all the photos seem to be of heaven models. They later explained to us that the requirement for publishing photos is that they should possess high quality and look professional. The site has a broad variety of ladies to choose from depending on your search criteria.
Ease of use
Value for Money
You are not able to reply messages sent, until you buy some credits. The prices for the credits are outlined below;
One message will cost you 3.6 credits worth $4.5.

Text chatting requires 0.4 credits per minute worth $0.5

Video chatting requires 1 credit per minute worth $1.25

Videos will cost you 1.5 credits per clip while checking the photo gallery will require you have 0.75 credits.

Sending gifts will cost you up to 300 credits worth $375 for some priced jewellery.

To get the contact details of a woman, you require 100 credits worth $125.
Highlights
Simple sign up process that is free from any costs. Additionally, sending messages on the site is free once you have created a new profile.

Translation services and delivery of gifts come at no additional costs.

You can send unlimited number of nudges to indicate your interest for absolutely free.
Rating
The agency is genuine and has been associated with very high success rates. Moreover, the control panel makes it easy for prospecting individuals to navigate on the site and find their perfect match. Our rating for UkraineBridesAgency is a unanimous 4/5.
Conclusion
Most of the profiles of women on the site have sincere descriptions. Furthermore, the site includes a good range of women that traverses from young to old and from extremely beautiful to not so beautiful. In the event you wish to contact them they have a 24/7 support system via Skype and telephone.