DatingWomenUkraine.com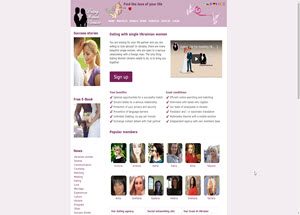 DatingWomenUkraine is an online dating platform located in the Netherlands with representatives in Ukraine. The site came into existence back in 2011and is yet to fully optimise its online dating operations. The owner and founder is a Dutch national who, according to the website, has been travelling to Ukraine a lot in search of Ukrainian beauties for matchmaking purposes.
Registration
The site makes use of the traditional sign up process, where you are required to fill in your details and upload a profile photo. The registration is free from any cost. You are now able to browse the Ukrainian women database and search your perfect fit. As aforementioned, the site is comparatively new on the dating scene and may not contain a huge number of prospecting members.
Ease of use
DatingWomenUkraine does not hinder members from accessing personal contacts from their correspondence unlike other sites. Prospecting men can send 'interest' to their preferred woman, upon the receivership of the 'interest', the woman can decide whether they are interested or not. In the event that she is interested, she will then answer the 'send request'. Both of you can now proceed by sending each other messages to get acquainted with each other well.
Selection of ladies
You are now able to get to know each other through the messaging service a lot better, without any barriers. With lots of women on the site, all you need to do is to select the appropriate profile and send a message instantly. Communication is made possible by a professional translator on the site. The 'send message' service allows you to personalise your interests, motives and characters.
Value for Money
DatingWomenUkraine also facilitates meetings at very reasonable costs as stipulated below;
Two or three meetings will cost you $46 for a single meeting.

Four or five meetings will cost you $43 per meeting.

Six or more meetings arranged through the site will cost you $39 per meeting.
Follow up meetings do not cost you anything, at least not through the site. You may still subscribe to the services of a translator in the case your girl doesn't understand English well at a subsidised fee.
Highlights
The site has a poor online presence, but has some good potential nonetheless as outlined below.
Sending an 'interest' is a sure way of verifying whether or not the lady is interested in your profile.

You can video chat through the site. This creates a virtual bond in the long run, by simulating real body expressions and feelings.

The site provides channels through which you can send a gifts virtually.

You can book a trip easily through the site or on your own.
Rating
The site has not registered any significant success stories in comparison to other websites offering similar services. I would give DatingWomenUkraine a star rating of 3 out of 5.
Conclusion
DatingWomenUkraine has a poorly designed dating platform, that may be hindering it from exploiting its potential well enough. Despite the drawback, the site is still growing in online users and may be an online dating force to reckon with in the future.
Ukrainian Bride And Dating Secrets Revealed!
by ukrainedatingsecrets