ElenasModels.com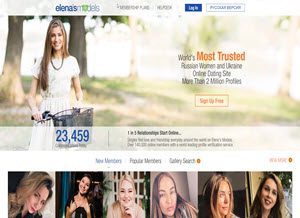 In case you are searching for an amazing dating experience, you must take Elenas Models into serious consideration. Elenas Models is a global online dating site that can provide an excellent match for you. Whether you are seeking a woman from Asia, Russia, Romania or Ukraine you will most certainly find the perfect match to suit your match. It is possible to find professional women who have their own successful careers on the dating site.
Registration
Signing up has never been this easy. The registration process is free and you will be able to complete filling up your profile details in a matter of minutes. With the basic membership, you will be able to navigate your way around the site with ease without paying a dime. However, there are several membership plans, that have reasonable fees and the features they offer are simply stunning.
Ease of use
The site's design layout is convenient even for newbies, who have just started online dating for the first time. You can easily obtain personal contact information from your correspondence. Some dating websites make it cumbersome for one to get personal contact details. Additionally, you can also seek expert advice through the site, in case you want to avoid pitfalls associated with online dating.
Selection of ladies
The search criteria on the site is rather extensive and traverses many parameters. You can search by country – Ukraine, Russia, Belarus, or by age, 24-28 or 32-39, you could also search by weight, hair colour, whether or not she has any addiction problem or children. The site looks realistic judging from the profiles of women on the site.
Value for Money
The premium memberships are categorised into two, that is, Gold and Platinum Plans. Their Gold Plan sign up cost is $99.00 for three consecutive months or you could opt for an annual subscription which sums up to $197.50. The plan is capped to a maximum of 50 women to whom you can contact. Platinum membership allows you an unlimited number of women to contact for three months at a cost of $259.00. The most cherished feature of the platinum membership is that your profile automatically goes to the top of the results whenever women search the site.
Highlights
Top notch services. The site makes an effort to ward off scam artists thereby providing an honest dating service.

The site offers translation services for its multilingual membership.

Elenas Models offers access to personal contact information.

There is an individualised expert help for those who wish to save on money and time in the long run.
Rating
Elenas Models has a solid reputation for being one of the most trustworthy and safest Russian dating sites, but fair to say, that are some negative reviews. I would give the site a star rating of 3/5.
Conclusion
My personal opinion is that the dating site is best suited for men seeking serious women for long term dating with the possibility of settling down soon. What Elenas Models lack is the number of women subscribed to their site and the website technology. The aforementioned shortcomings are compensated by their perceived trustworthiness and professionalism, and the fact that they have higher success stories that have allegedly led to marriage.
Ukraine Dating Secrets Revealed
by ukrainedatingsecrets